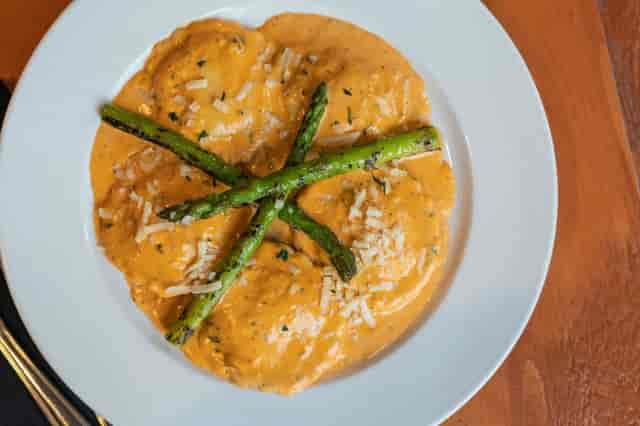 Private Events
Menus
Become a VIP
Receive updates on special events, new menu items, menu reviews, and more!
Appetizers
Private Events | Hors d'oeuvres
Please note the following are suggestions from the chef.
We are very happy to adjust your menu; we suggest you look at all of our menus for ideas.
Pricing can change without notice.
Display on Boards
priced per person - 25 person minimum
Imported & Domestic Cheeses, Seasonal Fruits, Crackers $4
Crudité- Seasonal Fresh Vegetables with Dipping Sauce $3
Antipasto- Assortments of Shaved Cured Meats, Roasted & Cured Vegetables, Aged Balsamic Syrup $4.25
Stationary Selections
priced per 50 pieces
Vegetarian Options
Traditional Tomato Bruschetta $ 75
Ratatouille with Parmigiano-Reggiano on Crostini $100
Apple & Pear Chutney, Gorgonzola Cheese & Walnuts on Crostini $100
Fresh Mozzarella with Ripe Tomato & Basil Skewer, aged balsamic syrup $100
Spanakopita- Spinach & Feta Cheese in Crispy Phyllo $100
Thai Vegetable Spring Roll with Ginger-Soy Dipping Sauce $100
Crispy Mozzarella Cheese Stick with Pomodoro Dip $75
Vegetables Stuffed Mushroom Cap $75
Seafood Options
Cocktail Shrimp with Tomato-Horseradish Chutney $150
Crispy Coconut Shrimp with Sweet Chili Lime Sauce $150
Mini Crab Cake with Cajun Remoulade $125
Sea Scallop wrapped in Smoked Bacon $150
Meat Options
Pork Pot Sticker with Ginger-Soy Dipping Sauce $100
Petite Lamb Chop with Balsamic-Rosemary Sauce $200
Chicken Satay with Thai Peanut Sauce $87.50
Tandoori Chicken Skewer with Mint Yogurt $87.50
Crispy Chicken Tender with Honey-Mustard Dipping Sauce $75
Panko Teriyaki Chicken Finger with Grilled Pineapple Plum Sauce $87.50
Crispy Chicken Wings with Dipping Sauce $75
Meatball with Pomodoro Sauce $75
Beef Satay with Thai Peanut Dipping Sauce $112.50
Mini Beef Wellington- Mushroom Duxelle in Puff Pastry $112.50
Italian Sausage & Speck wrapped in Puff Pastry, Honey Apple Dijon Dipping Sauce $75
Raw Bar Options (price per piece)
Jumbo Shrimp Cocktail $3
Oyster on the Half Shell $2.50
Littleneck Clam on the Half Shell $1.50